Take Advantage of This Month's Current Offers
We're Here For You
Grieco Ford of Ft. Lauderdale always puts customers first!
Don't take our word for it: Read our reviews and see what everyone is saying.
The sales staff and financial officer were awesome! They helped me get a great deal!
My sales man Chris was awesome. Helped to to get the deal I wanted and just great service from whole staff 👌
Great service very professional I will purchase my next car from you guys. Thank you
Salesman Christopher Costa was amazing I am forward and straight he fulfilled his shoes friendly and professional even finance department was on point awesome car buying experience keep up the good work
Just bought a F150 working with Eddie Zamora, Excellent experience, Highly recommend Eddie for your next purchase, we will. Mark Fillers
I recently purchased an F-150 at Grieco Ford, Ft. Lauderdale and it was the absolute best car-buying experience I have ever had. Gian Montoya was great at sowing the unit, discussing the options and working to get a good deal and his selling ability is top-notch. Darwin Padro did the Financing portion and I could have not be in better hands. Thanks for a great experience!
My experience at Grieco Ford of Delray was top notch. I was well taken care of by salesman Brevens and Mr. Rainer Kania. I would recommend this dealership to anyone that's in the market for a Ford. I drove up 1.5 hrs because they had a mustang I was interested in and within 2.5 hrs I test drove the car, made a deal and traded in my old car. I was out the door and on the way to work in under three hours because of them. Not only was the process efficient but they were very patient and helpful when it came to the details of the deal. I was expecting to be pushed into getting upgrades on my warranty or service plan but actually was given FACTS and treated with GREAT respect the entire time. They definitely changed my opinion on dealerships all being annoying and shady. Don't be afraid to come here and check out a car you like they are amazing !
Awesome experience one of the only dealers I know that is super honest to get the right deal for you about two weeks ago a leased a 2021 ford explorer st and Christopher Acosta was my sales man super honest guy this dealer all around is awesome even at the service department they took care of me with my 2020 ford f450 I highly recommend these people
Customer service was amazing. Everyone here is friendly & kind. Sabrina helped me with EVERYTHING & she went the extra mile. I traded my GMC Terrain for BMW X6. The process was painless &it didn't take long. Thanks to her dedication & promptness, I'm in the car I always wanted. Thank you. I definitely would recommend Greico Chevrolet of Fort Lauderdale.
My service advisor Kimberly Lewis is amazing. She cares about you and makes sure everything is taken care of. She's the best. She gives you fantastic customer service and provides professional service. Kimberly Lewis is fantastic. Thank you Kimberly and Grieco Ford. A great addition to your team.
Very happy with my new vehicle purchased especially with the great assistance provided by Don LeMay. He is very knowledgeable, efficient and he goes the extra mile to provide excellent customer service and customer satisfaction. I will continue doing business with Don at Grieco Ford and I highly recommend him and Jorge in Finance..
Don was a great knowledgeable no pressure sales person , genuine person to deal with and goes the extra mile to assist you with a purchase and after
Grieco Ford offered excellent service and hospitality. Justin Cohen answered all of my questions; he was super helpful, knowledgeable and accommodating. Justin came to pick me up at home and so I test drove it back to the dealership. Within 2 hours I drove away in my new car.
He was very thorough and worked extremely well with us. Would recommend him to everyone that walks in the door. Not only was he friendly but he was very professional
I recently purchased a F150 XLT from Grieco Ford in Fort Lauderdale, I want to expand my gratitude towards this dealership and the team they have. I was apprehensive about signing my-self to an extended loan but Jack my loan specialist really help out to make it smooth, also I had doubts after I signed that what I was told was real. Jack called me ASAP and cleared up any of my distrust. Now as for the sales team "Edward" totally nailed what I was looking for and supplied an excellent candidate for me. So all and all I highly recommend these two guys if you are looking to check out the deals at Grieco ford in Fort Lauderdale Florida......
Last October 2019 Dave Braunstein handled a number of issues with our 2009 Ford Fusion. They assisted me with repairs. the two Daves took care of my issues and were so gracious and kind. Dave Brownell is the second Dave. I truly had an insight to the meaning customer service with these two gentlemen. Also Lou....is a love. Fast Forward to May. I called Dave about the AC needing a check. He had me there the next day and by 4:45PM my car was good to go!!! Again i was shown the kind of customer service we all hope to find. Good people. I am so grateful. Even though my car is older that helped make it feel like new. It now drives better!!!!! Thank you Dave, Dianne
Great people and great service whether buying a car or servicing your vehicle. Mohanad Abdeljawad, Chris McGee in sales, and then David Braunstein in the Service department made it all easy.
Mike Mulleavey strived to ensure that I had a great experience and was happy with my new Ford Escape. I appreciated his suggestions, expertise and professionalism. Tyler was very patient and spent time explaining my new vehicle to me. This is third vehicle that I am leasing from this dealership. I have always been extremely satisfied.
second vehicle he bought in Grieco, excellent service, quality and service, excellent seller, Gian.would buy again in Gtieco ford, for its quality, they are very professional
Service advisor, Dan, was personable and thorough with attention to my needs. Informed me of other available services that should be preformed soon. Allowed me to pick /choose if anything in addition to services I requested. No pressure. No pressure.
very accommodating. very helpful. used this dealer instead of pompano because I had a terrible experience at the other dealership . This is my dealership I will be using from now on.
The service manager Dan was friendly and followed-up on all items. He set my expectations and delivered on my expections. That makes for a pleasant experience!
Great customer service. Finished on time and service manager advised of progress and extra requests were followed up as well. Other staff were extremely polite too
Very pleased with the service on my F150 staff are very friendly and knowledgeable sercie was completed in a timely manner and I look forward to my next visit
My brand new 2019 F250 would not shift out of 1st. The service dept figure it out first thing in the morning and got me back on the road.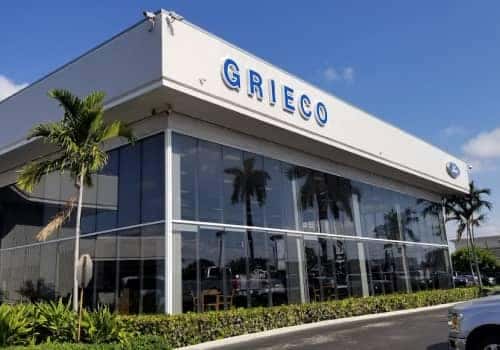 Get Directions To Our Dealership
Welcome to Grieco Ford of Ft. Lauderdale
Seeking a reliable vehicle that will last for years to come? We have a great selection of new and used cars, trucks, and SUVs for sale in Fort Lauderdale that will guarantee that everyone will have an opportunity to find their perfect future vehicle at just the right price. We have the brands you trust and seek for their durability, efficiency, style, and comfort at great rates.
Find peace of mind by choosing one of our certified pre-owned Ford cars, trucks, or SUVs. These vehicles have been combed over thoroughly to ensure they are in pristine condition, inside and out. Our trained, sharp-eyed team of technicians guarantee these models are up to the high standards of the manufacturer, so choose Grieco Ford of Ft. Lauderdale for your next certified pre-owned vehicle!
New Ford Trucks and SUVs for Sale in Fort Lauderdale
Our inventory of new Ford cars, trucks, and SUVs includes the latest and greatest the Ford brand has to offer. If you're looking for a truck that's as tough as it is smart and functional, a new Ford F-150 might be the right fit for you. This tried and true workhorse has remained a go-to option for residents in Florida seeking a vehicle capable of withstanding our thick summer heat and the difficult tasks required of the modern pickup truck. Our selection of new F-150s are an excellent choice for small business owners thanks to their exceptional towing and payload capacities and the use of the latest and best next generation safety technologies.
Improve your daily commute with our selection of new Ford SUVs and cars. Our inventory includes models such as the Ford Expedition, Escape, Edge, and Explorer. With exceptional interior space, lush trim options, and a plethora of available features, the line up of new Ford SUVs for sale in Fort Lauderdale will check off all your boxes. Our selection even includes models with the Intelligent 4WD system, so, hit the gas and trek off the beaten path in confidence with one of these incredible vehicles!
Your Local Ford Dealership: Grieco Ford of Ft. Lauderdale
Whether you're from Fort Lauderdale or Margate, choosing the right dealership for your next car, truck, or SUV is a crucial step in the car buying process. Here at Grieco Ford of Ft. Lauderdale, we're committed to serving the community and providing a hassle-free and completely transparent experience for the customer. We cherish our deep roots embedded in the Fort Lauderdale area!
At our Florida Ford dealership you'll find a welcoming and responsive staff ready to help guide you through the car buying process. We understand the idea of purchasing a new vehicle can be daunting. It's a big purchase for sure! That's why our team of financial experts are here to lead you through the process of finding a great Ford lease deal or loan option and get your auto financing in order, so you can take the wheel and hit the streets of Pompano Beach, Lauderhill, and Margate.
Dedication to Performance and Customer Satisfaction
We aim to provide you with the certainty and clarity that you chose the right dealership by the time you drive your new Ford or used car off the lot. We try to serve not only the customer, but the community as a whole, which is why numerous philanthropic efforts have been led by our founder's wife Cathy Grieco. She has raised over $1 Million through her tireless efforts spearheading fundraising campaigns with organizations such as St. Jude Children's Research Hospital and other community programs.
Our honest beginnings in the automotive industry date back to 1975, so we stand with confidence when we say we're vehicle experts. Our commitment to the industry has evolved considerably over the years most notably through our approach to environmental consciousness. We understand the toll automobiles take on the environment, that's why we try to do our part to reduce excess waste and energy at our green, eco-friendly collision centers right here in Fort Lauderdale!
Stop by 1333 North Federal Highway, Fort Lauderdale, FL 33304 to find out why so many of our customers speak so highly of our staff and services! Schedule a test drive in a new Ford truck or SUV today!
Contact Us